3d Cola Shaped Decor Eraser Art Gifts
Nasza gumka do żywności 3D obejmuje serię chińską, serię zachodnią i serię ciast. Różnorodność produktów jest obfite,
Design jest piękny, a kolor jest bogaty i różnorodny. oferujemy profesjonalną gumkę do żywności i nasze najlepsze usługi dla
abyś zaspokoił swoje wymagania.
1. Item No.:XDDF39
2.Brand: SOODODO
3. Material : TPR and Rubber
4. OEM:we can do according to customer's design
5. Color: various color for you as your requirement
6. Quality:we could pass EN71-1/2/3, no-Phthalate ,CPSIA test,environment friendly
7. Production capacity: 15 tons/day
8. Port: Ningbo and Shanghai
9.Packing: opp bag,pvc bag,blister card,gift box,cake box,opp bag + insert paper, foil bag
10. Payment terms: T/T 30% deposit,the balance should be paid before shipment.
SOODODO działa w branży papierniczej od ponad 10 lat. Obecnie nasze partnerstwo zostało poszerzone
do ponad 20 krajów i regionów. Proszę przejrzeć naszą stronę internetową, aby uzyskać więcej informacji.
1. Elegancka gumka biurowa nadaje się do szkoły, biura, prezentu, rysunku, promocji i tak dalej.
2. Nasza gumka ma konkurencyjną cenę . i wydajna zdolność usuwania i nieszkodliwa dla papieru.
3. Materiał jest TPR , jest bardziej przyjazny dla środowiska niż inne.
Nasze produkty eksportują głównie do Japonii, Korei, Niemiec, Francji, Włoch, Wielkiej Brytanii, Irlandii,
USA itp . Od surowca do końcowego pakowania, wysyłki, wszystkich towarów pod naszą kontrolą i upewnij się, że na klienta
wymaganie.
Mamy różne rodzaje gumek, takich jak gumka w kształcie zwierząt, gumka w kształcie jedzenia, gumka w kształcie owoców,

gumka w kształcie ciasta, gumka w kształcie narzędzia itp.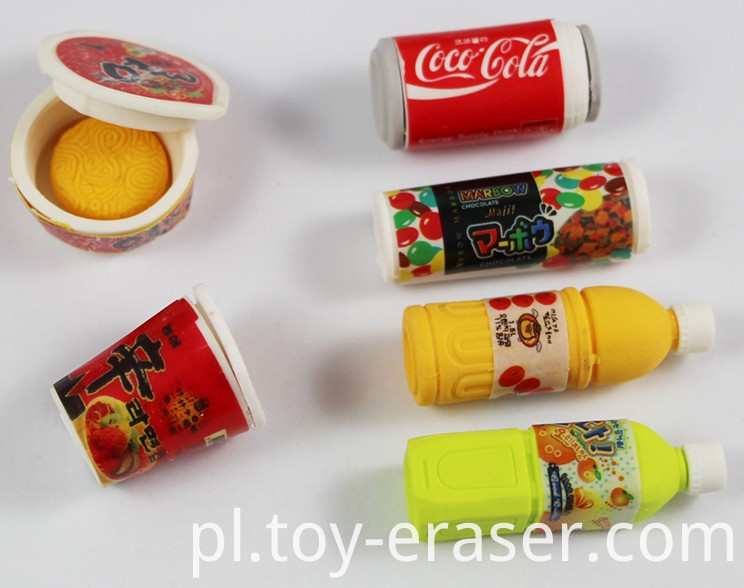 Destination

shipping Service

Shipping Company

Tracking number

shipping days

USA

Economy

China Post




15-25

Expedited

FEDEX




4-5

Canada

Economy

China Post




15-25

Expedited

FEDEX




5-7

Australia, New Zealand

Economy

China Post




15-25

Expedited

FEDEX




5-7

UK, France, Germany, Spain, Sweden, Switzerland, Ireland, Norway,

Belgium , Denmark, Greece, Portugal, Austria, Finland, Luxembourg,

Economy

China Post




15-25

Expedited

FEDEX




5-7

Mexico, Argentina, Brazil

Economy

China Post




20-40

Expedited

FEDEX




7-10

Netherland, Italy, Hungary, Romania, Slovakia, Russia, Saudi Arabia,

Slovenia, Turkey, Czech Republic, Israel, Poland, United Arab Emirates

Economy

China Post




20-35

Expedited

FEDEX




7-10
Jeśli znajdziesz jakieś zainteresowanie, nie wahaj się nas powiadomić. Chcielibyśmy z tobą współpracować w najbliższej przyszłości, nie możemy się doczekać
twoja odpowiedź na dalsze rozmowy.
Obecnie, rozważając rozwój na dalszy rynek i zapewniamy dobrą obsługę klienta, rozszerzyliśmy się
nasz zakład .
Nowa fabryka Znajduje się w Dongyang Industrial Estate, a plac fabryczny to około 3000 -3500 M2. 40 zestawów maszyn.
A także rozszerzyliśmy pakownię w Yiwu, mamy około 10 linii pakujących. a około 100 pracowników zajmuje się pakowaniem.
Zapraszamy do kontaktu z nami w celu nawiązania dalszych biznesowych i przyjaznych relacji.
Kategorie o produkcie : Żywność w kształcie gumki